Today's ramble is brought to you by Hobbitses everywhere. Filthy, Dirty, Lying, Thieving Hobbitses.
I've got no real clue where this is headed but I know I haven't written in a minute (where did this phrase originate and why the hell am I using it now?).
Lets kick it off with Weight Loss
Over the last while my weight has been pretty stagnant, or so it seemed. I've been bouncing back and forth between 254 and 248 on a daily basis with me never being able to actually take that step to push through and stay consistently below the 250 mark. It was about 2 weeks ago that I finally hit 249 but the next day I was back to 251 or whatever. So, with some happiness I'm here to say that it looks like I've finally gotten through that hurdle and am below 250. For the past 5 or so days every time I have weighed myself I've been below and not above. Now it's time to start making a push for 245! When I fired up my Weight Watchers online tool and plugged in today's weight I was greeted with a graphic that showed me I have lost 8.2 pounds over the course of the last 3 months. So, while I say I've been stagnant the reality of the situation is that I'm still losing and it's just slower than I'd like, than I'm used to. I guess the fact that when I first started out on this journey and I was shedding pounds like crazy without much effort that I became a bit spoiled and when the weight loss slows to more normal levels I just fail to realize it's still happening. However, that little graphic that shows me down 8.2 over the 3 month period is proof and BLAMMO I just gotta keep pushing.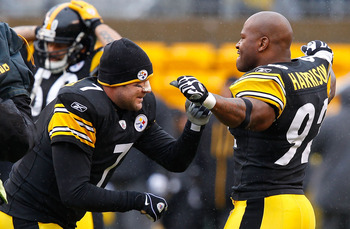 This has been true for a number of weeks now but the Pittsburgh Steelers control their own destiny. We, however, are not playing like a playoff team and even if we win out and get in it does not appear that we have what it takes to compete with the top 3 of the conference (Patriots, Texans, Broncos). This is kind of an annoying statement to actually type because we have been so good for so long but we are back to playing Steelers football which means we can compete with the big boys but we are constantly getting disappointed by the teams we should be beating no matter what. We had a 3 game stretch without our QB and we had a HUGE opportunity to seize the division even without him. Our Defense was playing lights out but our offense and special teams hindered us. First meeting against the Ravens we played well enough to win but we allowed a huge Punt Return Touchdown that sealed our fate. Against the Browns our defense dominated enough to win the game but when the offense turns the ball over 8 times there is no coming back from that. Then we actually beat the Ravens without our QB and things were looking up. However, coming back from injury and a sputtering offense failed to do anything against the Chargers and constantly giving them the ball on our side of the 50 proved to be detrimental. Now a loss to the Cowboys and for the first time we are actually looking in from the outside. We can, however, still sneak into the playoffs if we can win out. Most important game is next week against the Bengals because if we beat them we will have the same record but we will have the tiebreakers against them - giving us the last wild card spot. This is good news but the problem is we have to put it together. By my counts we have won one game out of our last 5 and now we have to win the next 6 straight to be crowned Super Bowl Champions. Tall task ahead of us for a team that is not playing like a championship team on both sides of the ball.
By the way - Tony Romo was the 1st QB all season to throw for over 300 yards against our Defense. Amazing.
I finally went out and saw The Hobbit last night and I'm quite happy with the movie. It's nice to watch a movie set in this universe with a not-so-serious tone as the Lord of the Rings movies. The movie didn't feel like it was as long as it actually was, it had great humor and a lot of nice action. I have not read the books so I don't know if the books had as many one liners as the movie had or if that was all added in after the fact. However, it wasn't overly campy that I was taken out of the experience but I did take notice when it just felt like a line shouldn't have been there (the Golf joke, the frying pan/fire joke, Gandalf slicing a guy who then stands in front of him like nothing happened until Gandalf gently nudges his head off with his staff....). Overall I loved the movie and I will be seeing it again.
Once I get a more favorable schedule I'll have to find time to take the old man to see the movie because he's been in love with The Hobbit long before any of the Lord of the Rings movies ever came out. I remember tales from my childhood where he talked about The Hobbit being one of the few (maybe the only) books he ever really read and loved.
The biggest gripe is going to be the fact that I've got to wait another 2 years to finish my tale as The Hobbit is going to be it's own separate trilogy.
LOTR was a big epic book divided into 3 movies. The Hobbit was a much smaller work divided into 3 movies as well. Next thing we know Peter Jackson is going to make 3 movies out of an extra 100 pages that was "discovered" while sifting through J.R.R. Tolkien's unfinished works, but it will be about an alternate ending where Frodo decided to give the One Ring back to Gollum.
I've started working out my goals for the new year and I really want to share them, however I'm still a couple of weeks too early for that crap so I've just got this list rambling through my head with no real rhyme or reason currently. It's like I have some extra voices in my head who want to find a home, a home on my blog, but they are all lost because I refuse to type them out. One is holding a sign saying "will joke for food."
I've been slacking off with my writing/blogging lately but I'd like to get to a point where I can churn out more quality over quantity. Now that I'm no longer at a point in my life where the blog is acting as anti-depression medication I don't feel the urge to sit down and write every single day like before. However, I think part of my absence this month is because of that damned Outlook catastrophe and I'm still in mourning for the loss of what I considered a great, well thought out and analytic post about a corporate entity who has parents by the balls :)
Has anyone else seen the Hobbit?
What did you think about it?
How are we feeling football wise? Is Dallas going to sneak in? (I know I've got some Cowboy fans reading this)? Is Washington going to take that division behind TWO Rookie QBs?
Does anyone want to face Seattle right now or is this overblown because of their opponents the last couple of weeks?
Does this blog make my ass look fat?
grrouch out