The good news is that I didn't have to wait too terribly long.
I got the call for my audition today and after asking about my availability it has been determined that the only shift I can work is swing, which I already knew.
So, after I nail my audition and get hired into the illustrious world of the Casino's I'm going to have to figure out a way to get the proper amount of sleep on the days that I'm stuck working both jobs.
Maybe I should have taken up Roulette instead?
For those of you unfamiliar with casino shifts, swing is either 7pm - 3am or 8pm - 4am. This is going to make life interesting. I'm hoping that I can pick up 3 shifts per week and if I get really lucky one of those shifts will be on a day that I don't work at my retail job.
The other two days are going to be complicated with power naps.
I have been told that Poker is sexier than Craps
Of course this is slaughtering my chickens before they even hatch. I actually have to go through with the audition and conquer my nerves and the table before I can actually plan working multiple jobs.
The other thing is that once a casino hires you, you have to go out and spend money on a sheriff's card and everything else that goes with that which is pretty much a $150 right to work tax if you ask me.
However, them's the rules as laid out in Las Vegas and I'm just a guy looking for a job.
In other news, I am now the proud owner of a Black Jack felt to go with my Craps and Roulette. One day I'll just own a whole casino!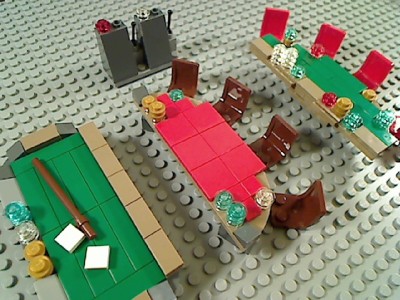 Lego Craps, Poker and BJ - Get the kids hooked early